"Rochelle Goldstein"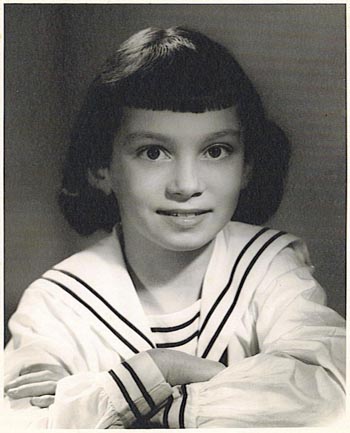 Rochelle Goldstein
Publicity photo from her early years
Rochelle Goldstein was the young actress who played the part of "Snowbird" in "The Indian Doll" episode in Hawkeye and the Last of the Mohicans television program. I recently came in contact with Rochelle and she submitted some photographs and some interesting information from her appearance in the Hawkeye episode:
"This (The Indian Doll episode) wasn't my first acting experience, I was somewhat experienced when I was hired to play Princess Snowbird. My teacher, Marjorie Purvey, was the only drama teacher in Toronto during the fifties. Anytime CBC (Canadian Broadcasting Corporation) needed kids they went to her, there was no other place to cast children back then. Miss Purvey was also cast in Hawkeye. She had been a stage and radio actress and opened her own business. She created, wrote, directed a weekly children's series on radio called Peter and the Dwarf. She used her students, both children and adults, as her radio actors."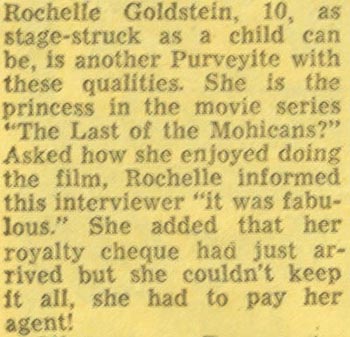 Part of a clipping about Rochelle on Hawkeye
"The week on-set on the Last of the Mohicans will always remain a vivid and incredible experience. I had seen Lon Chaney Jr. as the Wolfman in one of the Abbott and Costello movies. I also knew who his father was. I remember being scared about meeting him, but he was the sweetest man and absolutely professional. In one scene where I'm carried out of the teepee, before each take he made sure to brush off the bottom of my boots. It was logical, if Princess Snowbird had been in a coma then she wouldn't have snow on her feet!"
"I vividly remember each day of the shoot. Three in the cold, it was winter and there was lots of snow. We shot interiors just one day in a big studio on the waterfront in downtown Toronto. When we were on location I spent much of the time in the heated bus with my mother. There was a lot of snow and not much to do. I remember the wig itched an awful lot. The wardrobe lady scolded me for scratching my head and disturbing both the wig and my makeup. I loved the costume and one day I was allowed to wear it home. My mom took me to visit my aunt and 2 year old cousin who freaked out when he saw me in full costume and makeup. I don't think he ever recovered."
"The most interesting day was the last one on set. In between takes I was allowed to wander around and take in the various interiors ie. my teepee, the doctor's house. It was fascinating to see the props and how they constructed things. But the most fascinating of all was the scene they shot when the "doctor" was shot with an arrow. My young imagination found it incredible to watch this actor lie still with an arrow sticking out of his chest and then get up for lunch when the director called "cut". I remember the name George Abbott as someone on the crew and, from a nine year old perspective, was a very nice, friendly man. I know the Neufeld brothers, the series producer (Sigmund) & the director (Sam), went on to greater producing heights in Hollywood and I believe George Abbott became a director. One of his achievements is "Damn Yankees"...a movie I loved." "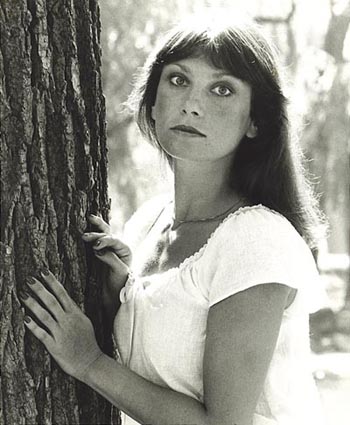 Rochelle Goldstein Porter
Publicity photo in her mid 30's
"I also recognize a number of other actors who appeared in Hawkeye episodes. Many Canadian actors went south successfully. I stayed and performed until the early seventies and I was in my early twenties. I appeared in about a dozen or more productions at CBC, as well as on stage and radio. "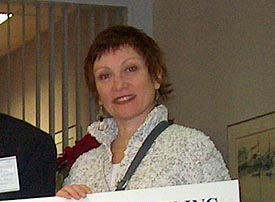 Rochelle Goldstein Porter
Recent photo
Thanks Rochelle, for sharing some of your memories from "Hawkeye".
---
ALL RIGHTS RESERVED
COPYRIGHT © 2004 by Steve Jensen
All Photos used on this page with permission from Rochelle Goldstein
This is a non-profit page

Back to the John Hart Page