Ed Gilkes built a Lone Ranger bicycle for the local festival. Ed built the bike using leather, silver bullets, Lone Ranger cap guns, etc. Ed even got John to autograph the leather seat.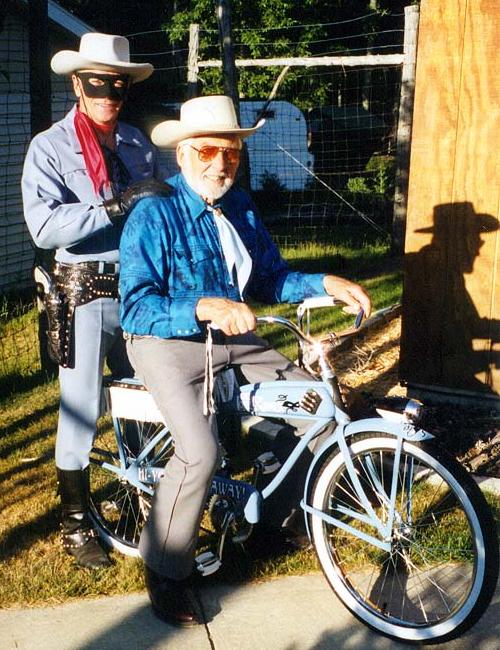 John Hart sitting on Ed's Lone Ranger bike with Don "The Lone
Ranger" Cagel, in front of the bunkhouse at Antler Ridge Deer Ranch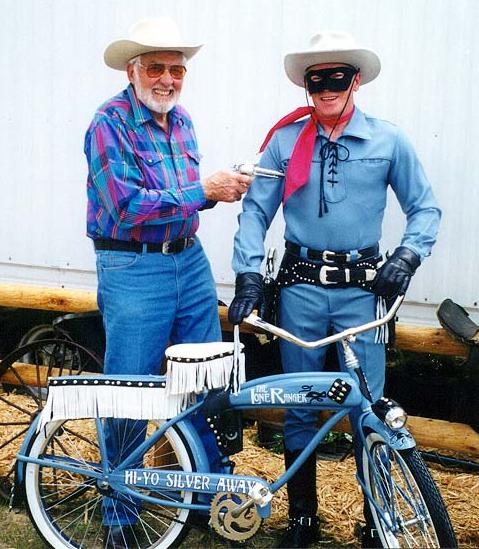 Two Lone Rangers and one Lone Ranger bike!
A while back, Ed was able to obtain the complete outfit of "Hawkeye" that John Hart wore in his series, "Hawkeye and the Last of the Mohicans". Ed has the outfit on display in his museum with costumes that other stars wore in their series.
John Hart standing next to the mannequin which displays the
actual costume that John wore as "Hawkeyeye" in the 1957
television series, "Hawkeye and the Last of the Mohicans".
This is the complete costume.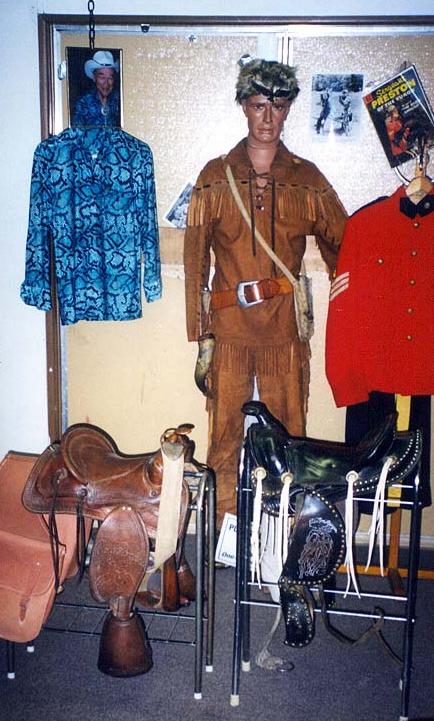 A few of the outfits that Ed Gilkes has in his museum
including the "Hawkeye" costume. Also pictured is a Roy
Rogers shirt that Ed recently picked up as well as an outfit
used in the series "Sergeant Preston of the Yukon" which
starred Richard "Dick" Simmons. Also shown are a couple
of the saddles in Ed's collection.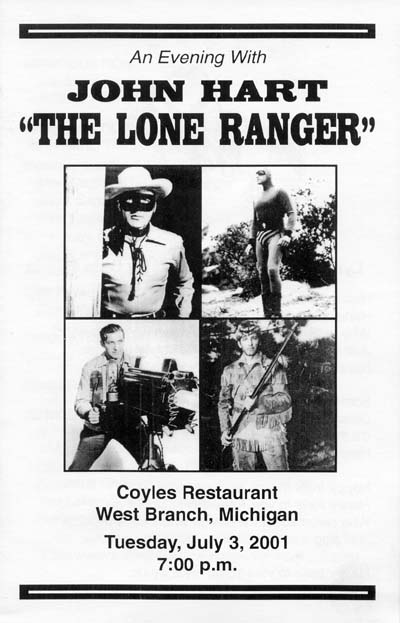 This is the brochure for "An Evening With John Hart
"The Lone Ranger" at Coyles Restaurant in West Branch,
Michigan on Tuesday, July 3, 2001. The Master of Ceremonies
was Greg Favaro from WNEM-TV5. The festivities included a
banquet, a question and answer with John Hart and a drawing
for door prizes.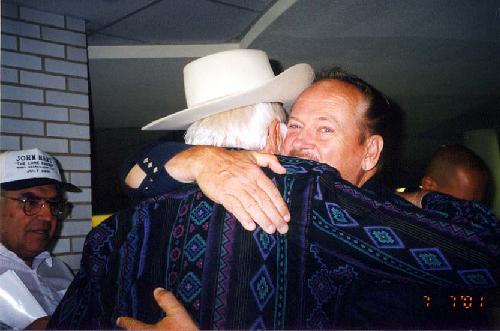 This is a photo of John Hart and Ed Gilkes as John is about to
board his plane for home on July 7, 2001. As Ed wrote on the
back of the photo for me: "The picture says it all"