JOHN HART WILL BE AT ICARE
in Honolulu, Hawaii
on December 18th, 2002!
John Hart will be making a presentation at an all-day conference, titled, "Growing Up Happy", on behalf of the International Child Advocacy & Resource Enterprises (ICARE), on Wednesday, December 18, 2002. The conference will be held at the Sheraton Moana Surfrider hotel, Waikiki Beach, Honolulu, Hawaii.
Also appearing at the conference will be Noel Neill, legendary actress and well known for her portrayal of Lois Lane on the 1950's television series "Adventures of Superman" with George Reeves. Noel & John appeared together in two films, both in 1947. This will be a great opportunity to see, hear and meet these two wonderful actors.
On December 18th, John and Noel will make presentations from 9 a.m. to 12:00 noon. From 12:00 p.m. to 1:00 p.m. you will have the opportunity to meet John and Noel during autograph sessions and book signings. The conference resumes at 1:00 p.m. with a presentation by Kathleen McCaslin which ends at 2:30 p.m. A third session will begin at 2:30 p.m. and ends at 4:00 p.m. with a presentation by Kathleen McCaslin.
Here's how to obtain more information about this conference: Please call (719) 276-0152. You can also request a brochure or you can write to: ICARE,INC., P.O. Box 324, Guffey, CO 80820. If you wish to register for the conference with a credit card, you can call by phone, (888) 820-8540 or by FAX at: (888) 820-8639 with the registration form found in the brochure or by mail at the previously given mailing address with the registration form found in the brochure. The fees vary so call (719) 276-0152 to obtain the fee schedule and to ask any other questions that you may have.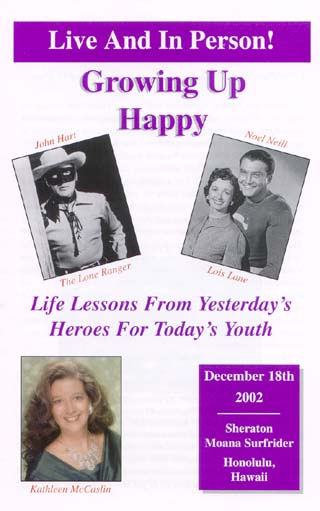 Front view of the ICARE brochure
John appeared at the ICARE conference in Columbus, Ohio on April 25, 2002. Mr. Larry Ward was kind enough to send some pictures of John at that conference and you can see those pictures by going to this page: John at the ICARE conference.